Attending a really big conference such as Web Summit can be quite a scary experience, especially if you are visiting on your own. Luckily, I had the Locastic's CEO Antonio with me who knows Lisbon inside and out, which proved to be quite helpful. Although, I tried to do my research before even stepping my foot on the plane because, you know, planning is the key.
Consuming blogs and vlogs proved to be a decent way to understand what to expect and how to adjust my approach. Because if you come underprepared, it can be overwhelming, considering the amount of content that's up for grabs. There's simply too much, so make sure you plan the schedule accordingly.
Let's get into it!
Web Summit is a tech conference held in Lisbon, Portugal and allegedly the best place to talk about the trends in the tech industry. It's important to note that the event has a large emphasis on future innovations. If you are looking for a TL;DR version, scroll down to the bottom — there's a cool video.
"The best technology conference on the planet"
That's how they brand themselves, at least. You definitely need to give them credit since hosting it in a city like Lisbon is a nice touch. It seems that the whole city talks about Web Summit and you can simply feel the buzz wherever you go. Regarding the main event itself, let's divide it into three categories.
Talks
representatives from Google, Apple, Samsung, Netflix, former F1 racers, Victoria Secret models, astronauts — you name it.
The organizers invite speakers from around the world which creates a really cool synergy where one hand you can listen to some of the most prominent speakers with years of experience.
Startups
people from all over the world showcasing their latest inventions
Companies, that are willing to pay roughly €1.000 for their booth, placing them within ALPHA and BETA categories. They get a chance to tell their company story to an international audience, and of course — try to secure R&D funding.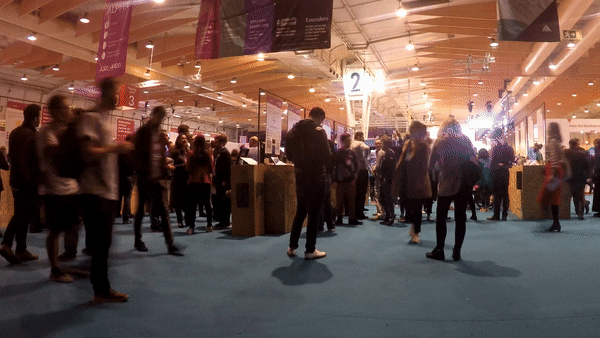 Most startups are also taking place in PITCH, a competition for startups where they face each other in a live on-stage battle. It is a well-respected global startup competition. The winner gets a really big exposure in front of potential investors, and of course – eternal glory.
Talks
Here's the beauty of the event, and Lisbon as well. The networking part is really well thought of. On one side of each pavilion, there's a stage for speakers, while on the other one there are startup booths. You can find their booth within a certain category (eCommerce, marketing, blockchain, environment, IoT) and it's really easy to get around and interact with them.
If approaching people randomly isn't really your thing, there's an actual Web Summit App that you can use to contact all attendees. In that way, you can be a business fit even before you meet them face to face. But, in case you are willing to do the research and actually explore community events around Web Summit, you are in for a treat. Staying in Lisbon for seven straight days has its perks, and we managed to fill our schedule with a different event each night.
We managed to meet people from Lisbon's investment banks, up to NASA's former astronaut at a Mercedes party. We explored a Smart City initiative where we presented our Spiro application to French Embassy representatives. Sounds cool, right?
Spiro is a white-label mobile app in the waste management department which allows you to find nearby recycling locations. You can also learn about proper and effective ways to dispose of waste, report communal problems with smartphone camera. You can even pay for your invoices, order a recycling truck, and much more.
What's the best way to approach Web Summit?
Okay, so I'll talk from the perspective of a general attendee, without special treatment, booths, or anything similar. The most important thing is to have the right mindset - you are one drop in a sea of 70,000 people and you need to act like that.
Most people that I managed to meet are quite self-centered. They approach you, drop you a two-minute sales pitch about their company and shove you their business card. It's simply not how things work at an event of that scale. The most important part is to listen to people talking, determine their potential issues and offer them some value in return.
Since Locastic is an agency that has a core-business in software development, we explored the option of finding new clients and partners as well. Most Ads that I've noticed during our stay are quite standard — "We are a company that does this and that, we will be at Web Summit, make sure you contact us", and it's followed with a flashy graphic visual. Not really a thumb-stopper, is it?
The other way around
The best way is to go the other way around and scale away from traditional awareness campaigns on social media, so instead, we went with a campaign called — Web Summit Challenge.
We used Facebook Ads to target business owners that are travelling or residing in Lisbon during the Web Summit week. The main point was to offer them a chance to send their website/app link and we'd review the website with one thing they can improve. Whether it's something related to User Experience (UX), website performance or design.
The campaign proved to be quite successful since, shockingly, people are willing to talk and interact if you provide them value.
It's safe to say that they made the right move. Lisbon is an amazing city with so many different things to see, taste and experience. What amazed me the most is the amount of interesting buildings, monuments, and you simply don't know what's waiting behind each street corner.
All in all
That sums up a part of my experience in Portugal. Web Summit is a really huge event that saw an enormous growth in attendance. From 500 people in 2010 to 70,000 in this year's edition, not bad right? That can be quite scary in the beginning. But, once you start talking to people and actually listen about their projects, it gets easier since things start to fall into place.
Would I recommend Web Summit to everyone?
That depends on what are you hoping to get out of the event. Everyone who visits Web Summit to meet new people and listen to interesting talks – it's a great call. But, if you are looking to find new clients and do cold sales – be smart about it because people have a really strong "bullshit filter".