It's quite common among the tech companies to offer benefits like ping-pong or foosball tables, PS4 rooms with beanbags and a respectablesupply of beer bottles in their offices.
Yeah, we also have that stuff, but in addition to it, we are gamers. Locastic team is a part of the Esports scene for a while now, supporting the best Croatian Counter-Strike team that's playing under the banner of Locastic Esports.
Gaming has been a large part of life for most people included in the tech industry. Some of us play, others follow Twitch streams, famous Youtubers, or Esports tournaments. Working in a company that supports our hobbies is an amazing perk, especially since we get to attend b2b Esports tournaments and showcase our skills.
Good Game Global is an amazing opportunity to do just that. It's an event that gathers 30-ish regional tech companies that compete in a Counter-Strike: Global Offensive tournament. Each company pays for an entry fee, and a certain percentage of that money goes to best young regional startups at their Good Game Lift-off event in November.
Narrow gold medal miss

Let's start with the previous edition of Good Game event where we attended as complete underdogs. Locastic was one of the smaller companies at the tournament with less than 25 employees, while some of the larger names featured more than 200 people. Still, that didn't stop us to our route to the Grand Finals.
The event took place in a large hall, on a big stage in front of a large audience that cheered for their favourite teams. We nearly secured the gold medal, eventually losing in the finals versus Valiance, a regional Esports company that hosts their own professional team and online tournaments for mobile gamers.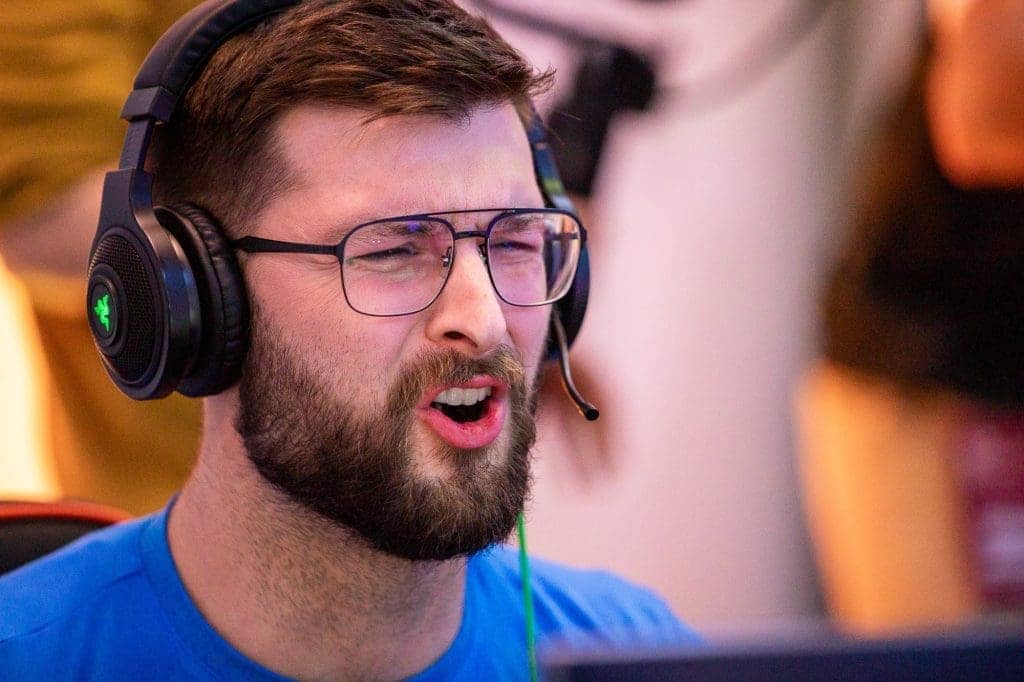 Oh boy, it was really close – we lost the game with 16:14. Narrow miss, but it didn't demoralize us at all. It proved that even small(er) companies (in terms of employee numbers) can yield five people that play CS: GO on a respectable level.
2019 is our year.

Following the GoodGame 2018 event, we had some ambitious goals to play more during the year and improve our game. As you can imagine, the life and work combination happened for most of us and we hardly even touched Counter-Strike prior to the 2019 event.
Even after we saw the announcement we were not sure if we will be able to defend our silver podium finish. To spice things up, I was close to accepting a gig to work with the event administration team, and I felt that it wouldn't be fair for me to compete. But luckily, I've managed to find a few other people that could handle the stuff that I usually set up, like eBot or servers.
When it comes to the rest of Locastic guys, they just needed a little motivational push and our team captain Toni did just that. After a few days of discussing, we finally decided to attend, even though having only five days to practice was not ideal.
It was really tough to pick a five-man roster because we have quite a lot of colleagues that play CS: GO on a decent level, but we felt that these five have the best shot to win the whole thing.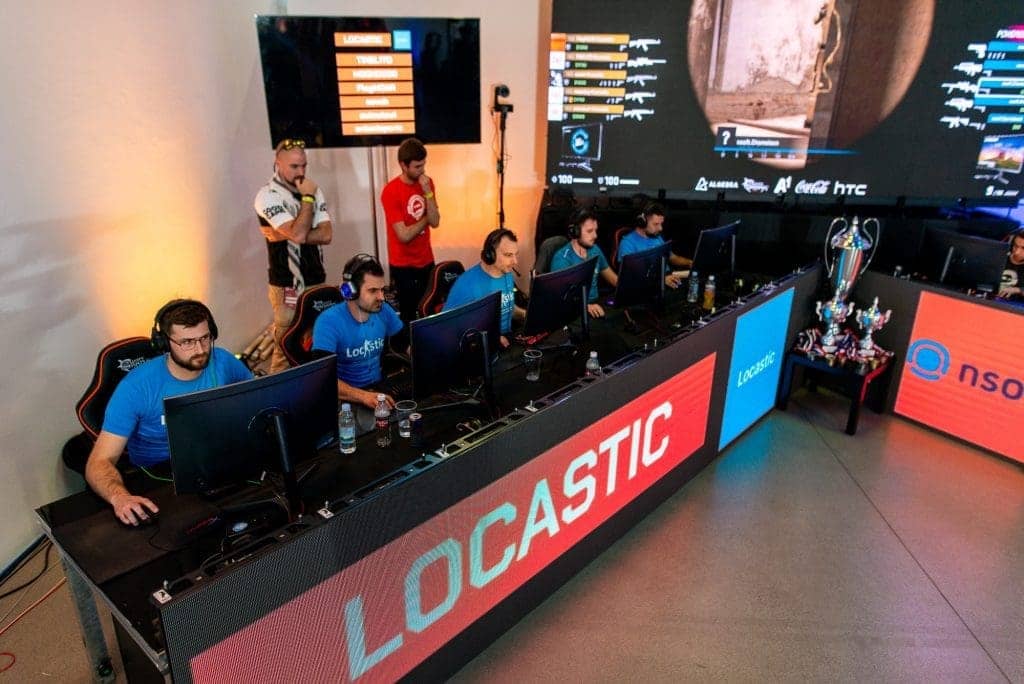 With such short notice, the only thing we could focus on was aim practice, because it usually takes more time to dive deeper into the strategical aspect of Counter-Strike. Luckily, round-by-round and match-by-match it proved that these five players actually had what it takes to lift the GoodGame 2019 trophy.
The first step – group stage.
Let's dive deeper into the event breakdown. The first day was somewhat of a warmup session where we had the opportunity to check how strong was our opposition. Regarding the tournament format, two teams advanced from the group stage and our goal was to be on the top of it. Following the live draft, Locastic team ended up facing three Zagreb-based companies in the shape of CloudSense, Franck and Bonbon.
CloudSense were a team we faced in the 2018 edition of GoodGame. They are somewhat similar to Locastic (in terms of the core business, but more importantly their CS: GO playing skills). When it comes to Franck or Bonbon, they were a complete mystery to us.
The first game kicked off versus Franck team on nuke where we finished off with a perfect 11:0 scoreline. Following that game, we had a small break prior to facing team Bonbon. But, as we found out a few minutes prior to the match, they have forfeited the tournament after a tough loss versus CloudSense.
It felt bad that we were not able to warm up a bit more, but that free win meant that we advanced to the second stage of the tournament.
Match of the day
The game against CloudSense was our premiere on the main stage of Good Game Global. Two teams that were sitting on top of the group, facing each other for the top spot, with CloudSense seeking revenge for the last year defeat – what an amazing storyline.
We were aware that they had players that understand the game and know how to play good Counter-Strike, but it didn't make a big difference – we managed to secure a win with 11:5.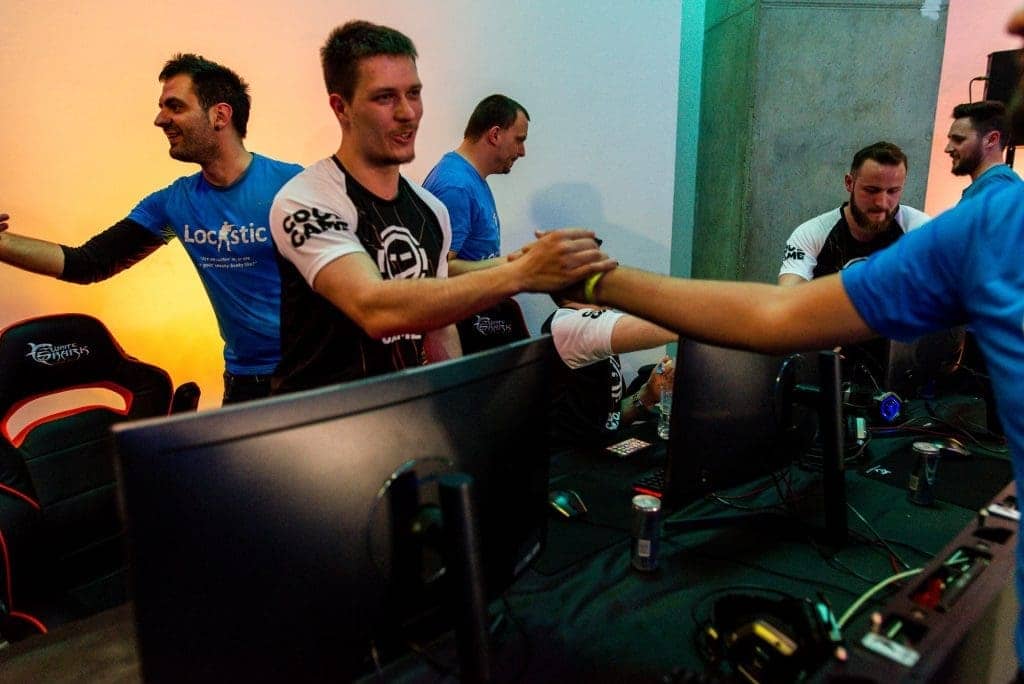 Do or die time.

After the first playday, our opponents advanced a bracket based on their group performance. This meant that we had to lock horns with Agency04 early in the morning. In this stage, teams didn't get any chances for mistakes, you lose one game – you are out.
Agency04 were also an unknown quantity for us, but we heard that their players have practised a lot before the event. This game was really fun to play and I think that was the point where I lost my voice from shouting. The matched ended up 11:4 in our favour and that pushed us further into the second match of the day – versus A1.
A1 is a telecom company from Croatia that, among other things, runs a regional Esports league. They are also our client, and they've got a lot of people in the company, so we thought this one might be harder. The game took place on overpass map and it was off-stage, so we could easily focus on staying calm and collected. Starting on the CT-side, we simply locked every entrance into the site, eventually securing an easy 11-2 win and a spot in the semifinals.
The Final Four
After that match, we slowly walked towards the main arena where Infinum versus Five match was taking place. The encounter was going in favour of the latter who were leading with 10-5 at the time. But, round by round, Infinum started pulling back the comeback. The crowd was completely ecstatic after every single frag, as Infinum players completed their fairy tale story and defeated the arch-rival in overtime.
That meant we had to face Infinum for a spot in the grand finals, and we also heard that they have been practising a lot. Also, having such an electric crowd in front of them definitely had some perks.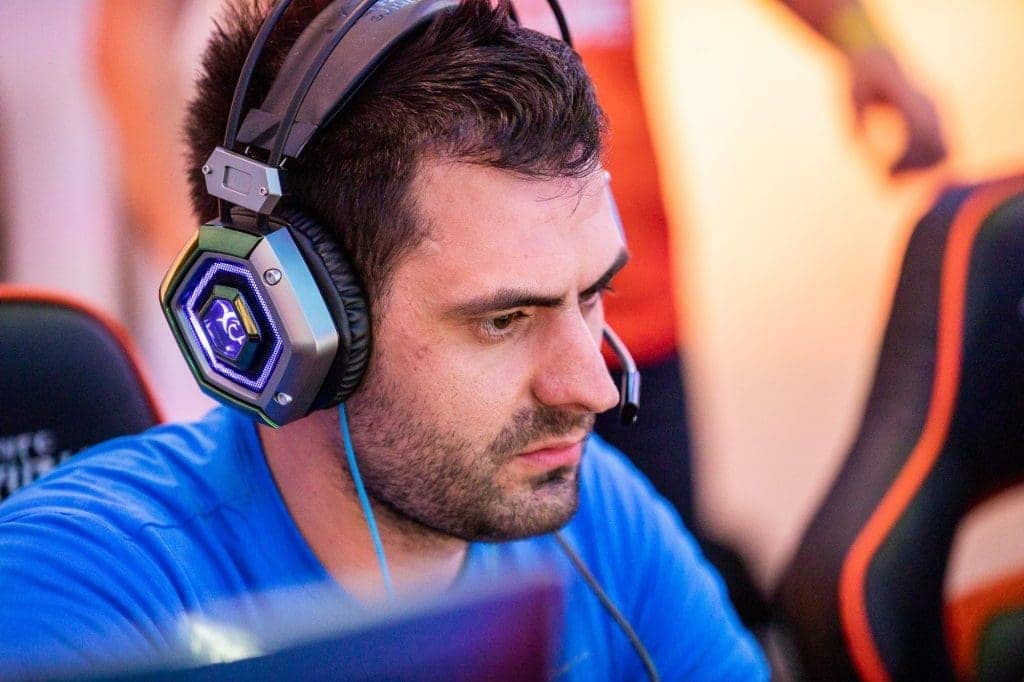 This semi-final win was also a lot tougher than the result shows because Infinum was on point with their players – good aim, tactics, and excellent team spirit. After a lacklustre tournament beforehand, our captain TINEL1TO showed up and destroyed Infinum with the sniper rifle, eventually finishing with 27 frags in only 15 rounds. All in all, a comfortable 11:5 win, we are in the finals of Good Game Zagreb 2019.
It's coming home.

Grand finals time! We were about to play versus team NSoft who presented an amazing performance in their GoodGame Global premiere. Since I'm familiar with most of CS: GO players from the region, I have been in contact with one of the NSoft employees during their preparation for the tournament.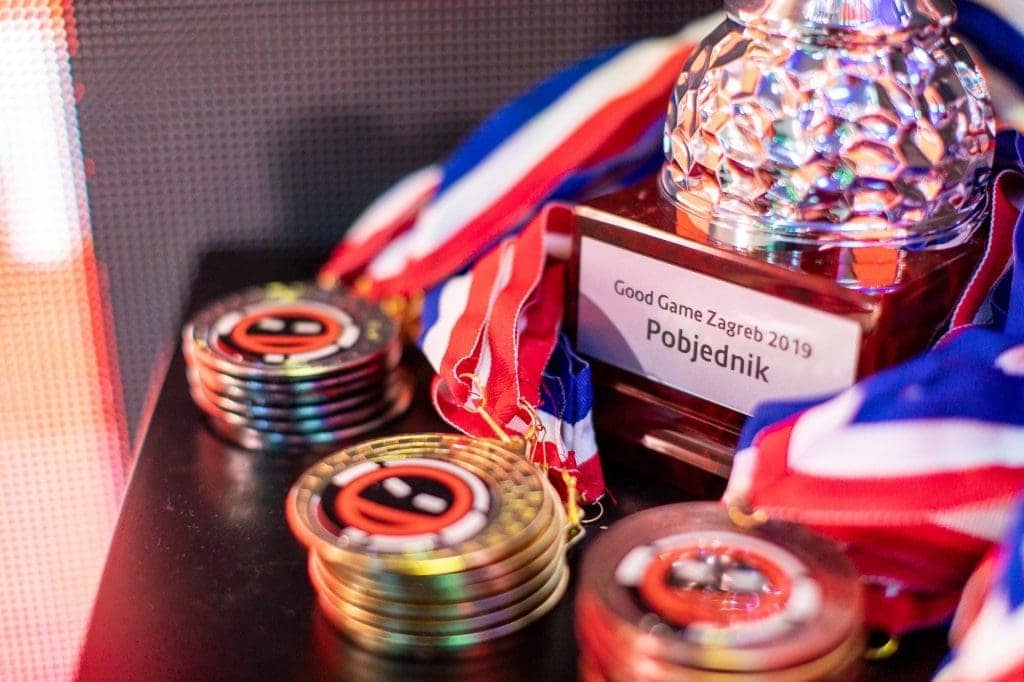 They played a lot together and they have shown good stuff throughout the league. I was kind of afraid that the last year finals might happen again and that I will not be able to lift the trophy. For me personally, second place was something like a "curse" – I played a lot of finals in gaming tournaments, but never managed to win a single event.
Heading into the Grand Final match
During the warmup process, I told my teammates that we should skip the yelling and raising the atmosphere for this match. I wanted to focus and win, not make clowns of ourselves. They told me that hype is a great part of our performance since when we cheer for ourselves and heat up the atmosphere, our opponents are more afraid and they start to break.
This was the case here, indeed. After each round we won, their morale dropped off by a margin. Round after round we cheered and we even won the audience's heart as they started cheering for us too.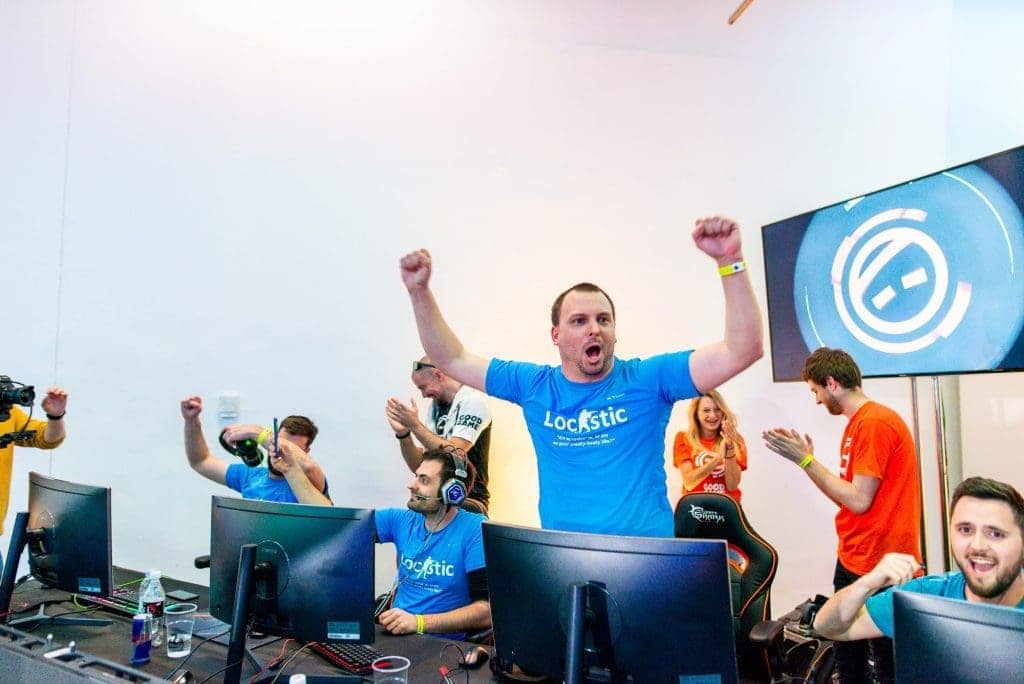 Eventually, a 16:5 win on de_mirage meant that WE ARE THE CHAMPIONS and that I finally won a gold medal and a trophy. It took me 20 years and I did it only after a lengthy break from competitive gaming.
It's a tournament for the seniors? Doesn't matter, a trophy is a trophy and gold medal is a gold medal! Now is a great time to put that mouse and a mousepad back to sleep, where they belong.
Great conference track

This tournament was not just a game for us. We came with a goal to meet new people from our industry and to talk and exchange experiences. During these two days, we were able to talk with some of our old friends, and of course to listen to some great talks at the conference. We even had our own Marketing guy Toniparticipating in a panel talk about the future of Esports in the region.
What about the future of esports/gaming in our company? Will we be able to play with each other for a few times until next year or will we fall into work'n'rest daily routine?
I surely hope that we will be playing even more and that we will become even stronger for the next event. I'm feeling optimistic that regional companies will have a bigger motive to bring us down and to practice even more.
Is there life after the event?
After the event, we had a mixture of both good and bad feelings – good because we finally won it, but bad because it was over and we will need to wait for another year for a tournament of this type.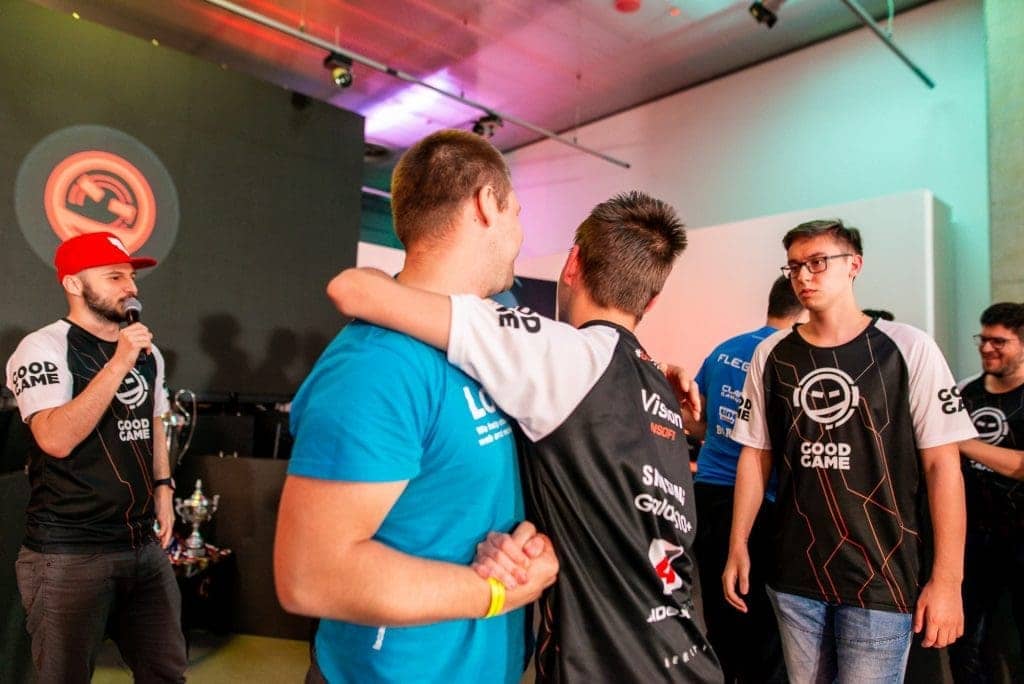 Big thanks for everyone that believed in us and even cheered for the team. We hope that we've put some smiles on peoples face and that we are now in your hearts, as you are in ours.

Congratulations to NSoft, Inceptum, Infinum who played great in A tournament, and of course Bravo Systems who took the title in the B portion of the event. Shoutout to all of the great people and players that we met at Good Game Zagreb! See you next year.
/me FlegMOAR out.