Let's drift away from the classic content we post and discuss a spin-off project that we've been supporting for a year now – it's Esports, of course.
For the past two years, we have been funding teams that were competing in the Adria region and we finally managed to produce proper results, eventually claiming a spot for Croatian Counter-Strike on the regional Esports map.
Albania, Slovenia, Croatia, Serbia, Bosnia and Herzegovina, Kosovo, Montenegro, Macedonia.

The so-called Adria countries
But now, Locastic's Esports endeavour has come to an end as we reached the end of our endeavour. The fan-favourites, our CS: GO team will be transferred to Fantastic Esports organization to fight for their title at A1 Adria League. During these past few months we have been seeking for an adequate home for the CS: GO boys, and we strongly believe that Fantastic Esports is the place where they will simply continue where we left off during the summer.
In case you've been following our Esports adventure, that piece of information should be enough for you to understand the situation, but let's break the project down for those who still don't know what I'm really talking about.
About Esports
Esports is a term given to playing video games at the highest competitive level where the e-athletes invest infinite hours to develop their skills and secure their spot on the podium. Similar to professional sports, only the absolute best players in the world can compete at the highest level of competition and make a decent living out of it.
During these past ten years, internet speeds have changed since the early days of PC and console games, so creating a lag-free experience became a viable option.
That spiralled the rise of online multiplayer and video streaming via Twitch, and the Esports niche has exponentially involved into a billion-dollar industry, reaching a much wider audience with mainstream media included.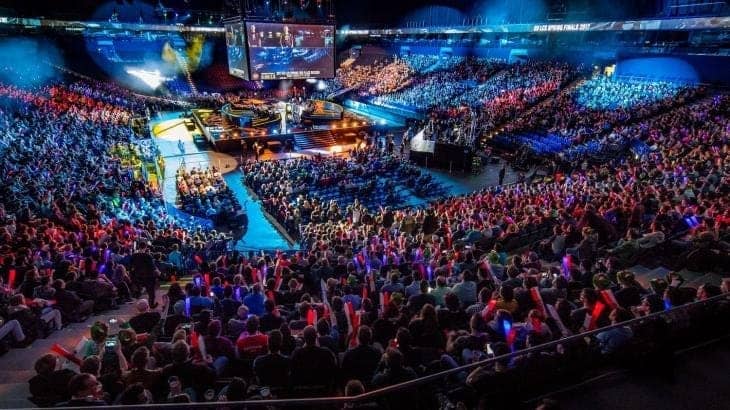 Nowadays, the Esports world includes coaches, nutritionists, sports therapists, player transfers, dedicated ESPN-like news websites, gambling sites, commentators, world championships, injuries, and drama – lots of drama.
What has this got to do with software development?
Not much, but we just decided to use our experience and resources to test these shallow regional Esports waters and try to implement the things we learned to a completely unexplored Croatian gaming market.
The reason behind doing that lies behind the fact that a few Locastic members have already lived through the growth of global and regional Esports by working in organizations like ESL, HLTV, SK Gaming, Cadred, CSadria, and more – so Locastic Esports felt like a great platform to see if a viable business model can exist in the scene.
The first step was getting a team, obviously. It felt natural to start with Counter-Strike: Global Offensive as the main game considering that most of us share the same FPS background.
The first step
The first Esports steps for Locastic date back to May of 2017 where we gathered a mixed-team to attend Battle4Split gaming tournament. They ended up winning the whole thing so we decided to extend the support to CSadria Clan Championship as well where they managed to end up within top four teams.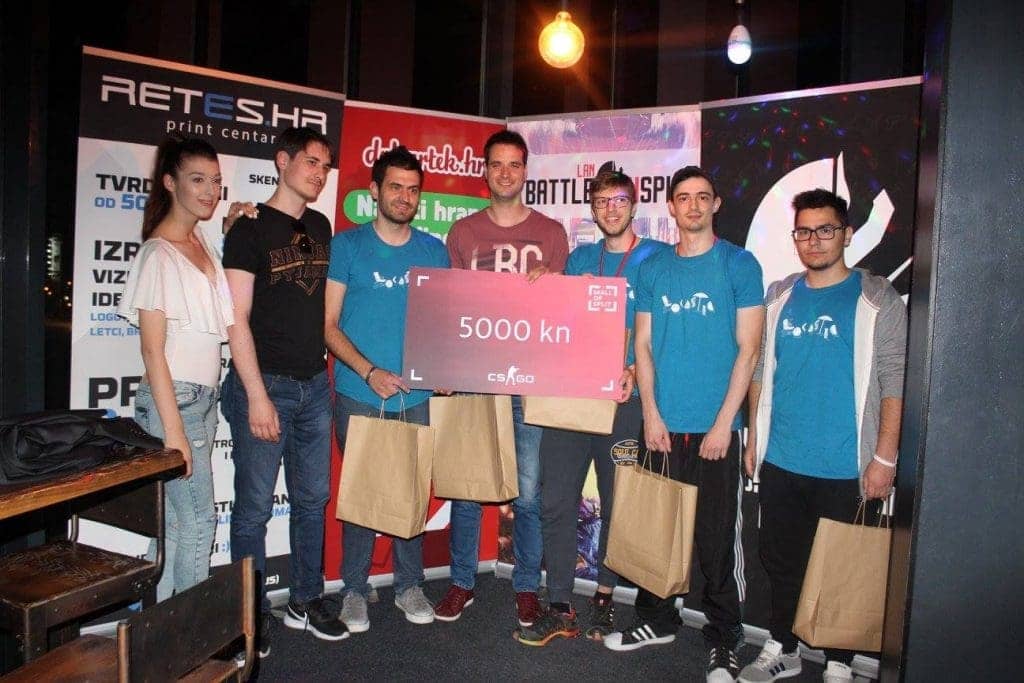 In coming months, similar lineup iterations kept competing at other regional tournaments like Vip Adria League, NEST LAN in Slovenia, the second season of Battle for Split, and so on. Although the results were decent to an extent, it still felt that the team in charge did not really invest the time needed so we went on a small hiatus before going back in – guns blazing this time around.
Good tournament placements and mainstream visibility was a great start to gain some recognition, but the main lesson learned from the first campaign was that we need to surround the team with proper management and content creation staff in order to provide value outside of tournaments and results.
Eventually, we attracted quite a few skilled people to cover their own department. We managed to secure services from HLTV.org's senior CS:GO writer Professeur who took over the team coach role, ex-NKRudeš's captain Luka was the team analyst, while Davor joined us a bit later to put some emphasis on nutritionism and mental training (huge shoutouts to his Stabilitas team).
When it comes to content creation and marketing – Locastic's designer Slobo was in charge of the visual identity, Dominik took care of video probably the best editor in the Esports regional scene, while Netokracija's Ivan helped to build our social media accounts.
Although, it is important to note that every single person (players, coaches and analysts combined) also contributed to the marketing and promo part and I really believe that unity and strong collaboration was the main strength behind our relative success.

Anyhow, during late August of 2018, we finally approached the former GIANT5 team and agreed to terms that suited both parties at the time. They were the best Croatian CS: GO team at the time and probably the only squad that had the potential to compete with best teams in the region like Valiance, GamePub and KlikTech.
A1 Adria League
The first and main goal was leaving a mark in the Vip Adria League (later rebranded as A1 Adria League) where our team competed as complete underdogs. Luckily, the team got off to an amazing start and managed to keep the composure up until the very end of the regular season.
During the league, the team managed to secure quite a few respectable results, including two consecutive wins of the heavy favoured Valiance team in the regular season.
In the very end, things did get a bit out of hand with a few unfortunate losses to KlikTech, UltiCoin and GameZone, but nevertheless Locastic and KlikTech ended up being the top two teams that secured a direct spot to A1 Adria League finals at Reboot InfoGamer.
The finals took place in mid-November with our team facing Valiance in the semi-finals and even though we had the audience on our side, we couldn't really parry to the strong opposition and we finished the tournament in the 4th position overall.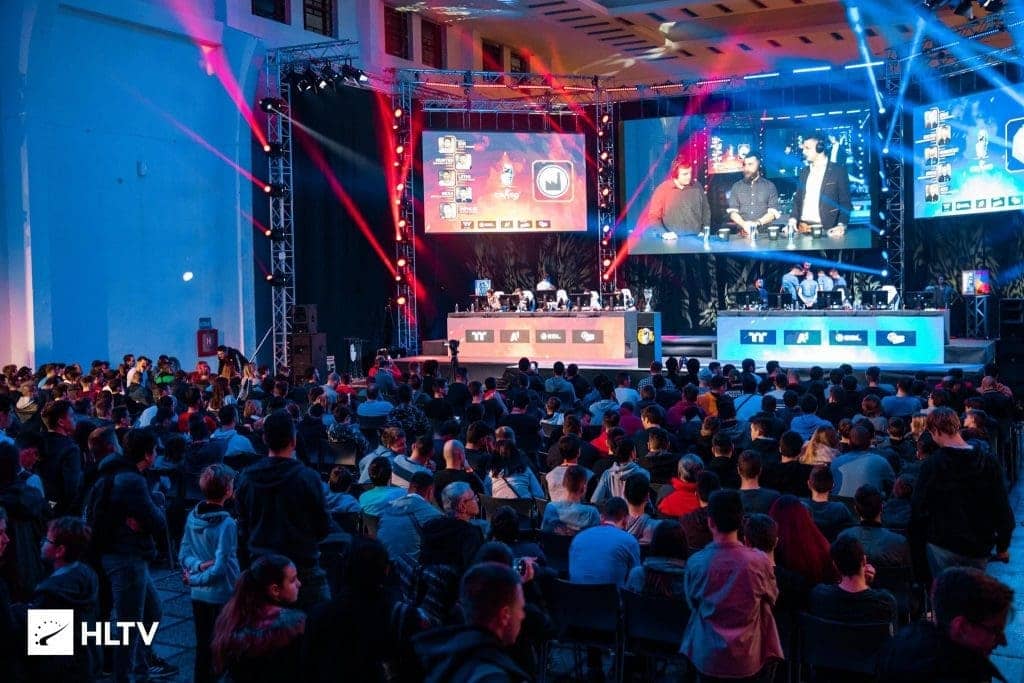 Even though we didn't reach the podium finish, the whole A1 Adria League adventure meant a lot for the team recognition and we eventually started to receive invitations for some bigger tournaments and leagues.
ESL Southeast Europe Championship
The stellar performance in A1AL did not get unnoticed as we received an invite to compete in the eighth season of ESL SEC along with the likes of Windigo, Bpro Gaming and Nexus.
The teams from the Adria region had some success in previous iterations, but Croatian squads never played a significant role in the competition – and we wanted to change that.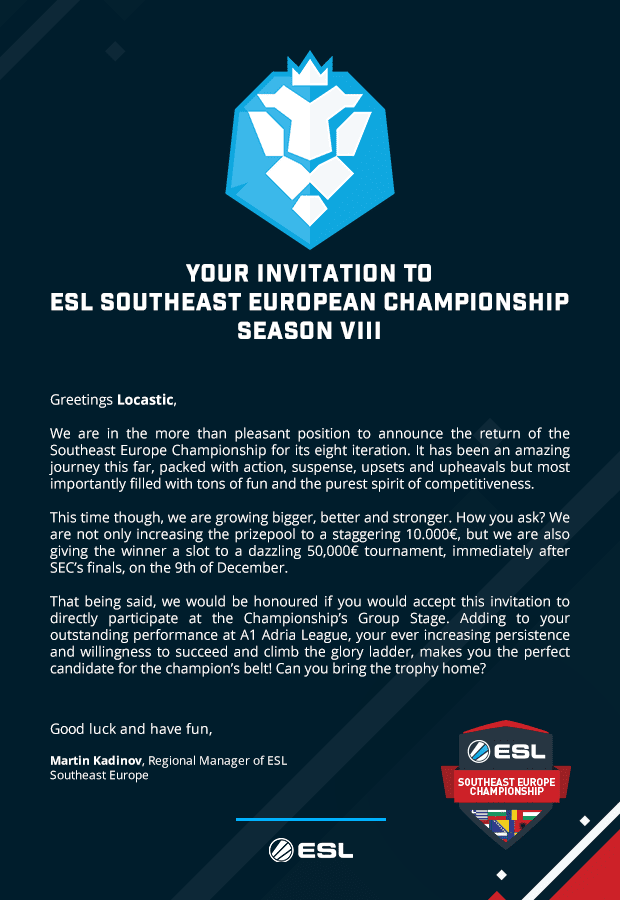 The online portion of ESL SEC took place over a two month period where we couldn't do much to jeopardize Windigo's top spot as they were a clear favourite to win the whole event.
On the other hand, match after match our team climbed the ladder, eventually securing a spot in the additional qualifier where they had to secure two wins against the Romanian opposition.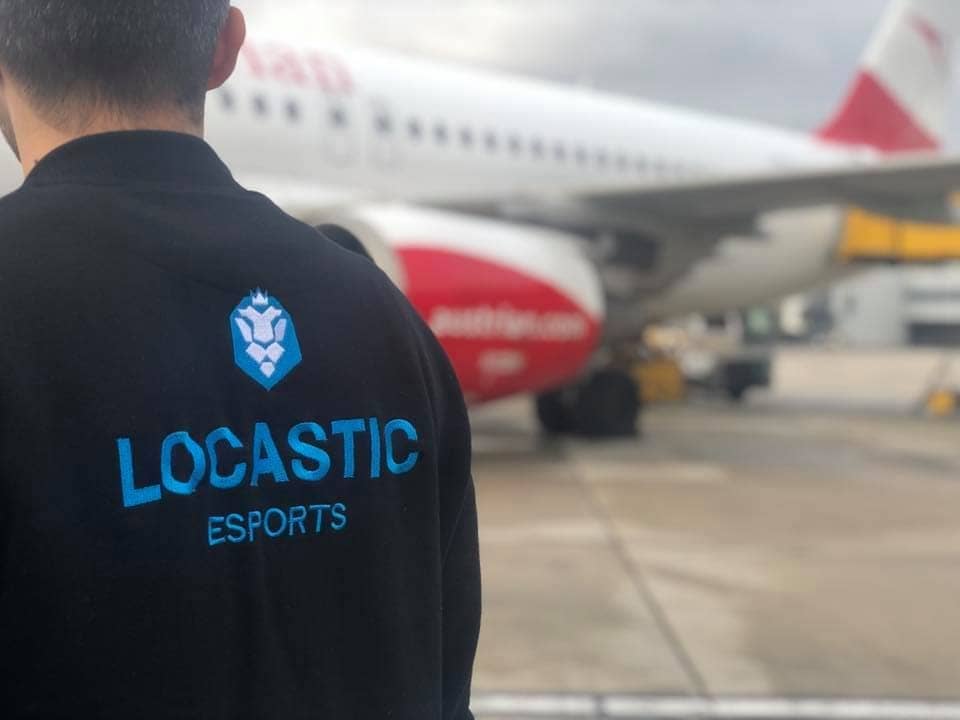 They ended up beating two (out of three) Romanian teams KnockOut and RedFear which meant that our ticket to Bucharest Gaming Week was finally secured.
That accomplishment meant that we became the first ever CS:GO team from Croatia to travel at an international event, outside of usual locations like Slovenia and Serbia.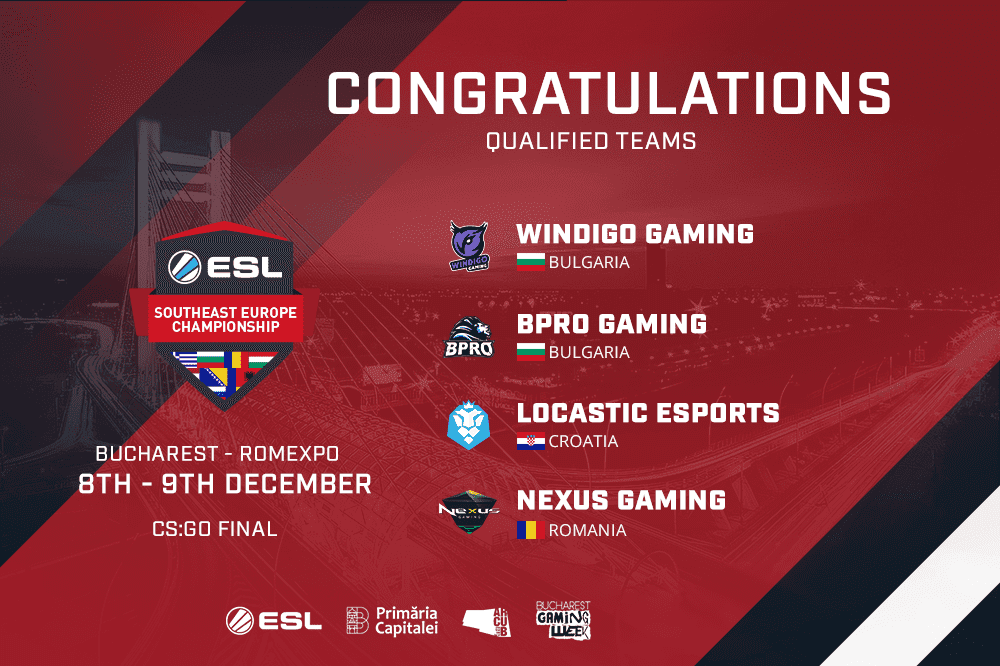 At the event itself, we were instantly paired with the Bulgarian side of Bpro Gaming who also managed to confirm their direct spot in Bucharest.
We knew that the chance was there, but so was the pressure of delivering top-notch performance in front of a live audience and once again (similar to our A1AL endeavour) we fell short in the semifinals.
All in all, the event was a great platform to gain some experience since we were the youngest team at the tournament with 20.8 years on average.
The game was streamed on both ESL SEC and CSadria channels and on the latter one, our match against the Bulgarians managed to attract 9,979 live views during the best-of-three series, which is quite a statement for everyone who says that regional CS:GO is "not there yet."
Spreading the word
Outside of those competitive results, we invested a lot of time in our marketing campaigns for the whole year. All matches were covered with announcements and match results updates, post-match statements, predictions and so on.
Furthermore, every time we managed to get together for events or boot camps, we tried to generate content like interviews, quizzes, get-to-know series, video memes, etc.
The Locastic sponsorship was the main foundation behind our growth, while companies like Varteks, Uber, Marvie and Clan Gaming became our operational partners.
The most notable reach we got took place after partnering up with the largest Croatian fashion brand – Varteks. Following the proactivity by their CEO Nenad Bakić who understood the Esports potential at the time, our players became the main faces behind their YOUNG campaign.
That campaign gave us proper recognition with traditional media sources like 24sata, Slobodna Dalmacija, Netokracija, Nova TV, Lvl8 and Joomboos. In less than three months, Locastic Esports team was featured in articles, video interviews, press conferences, billboards, and marketing campaigns for our partners.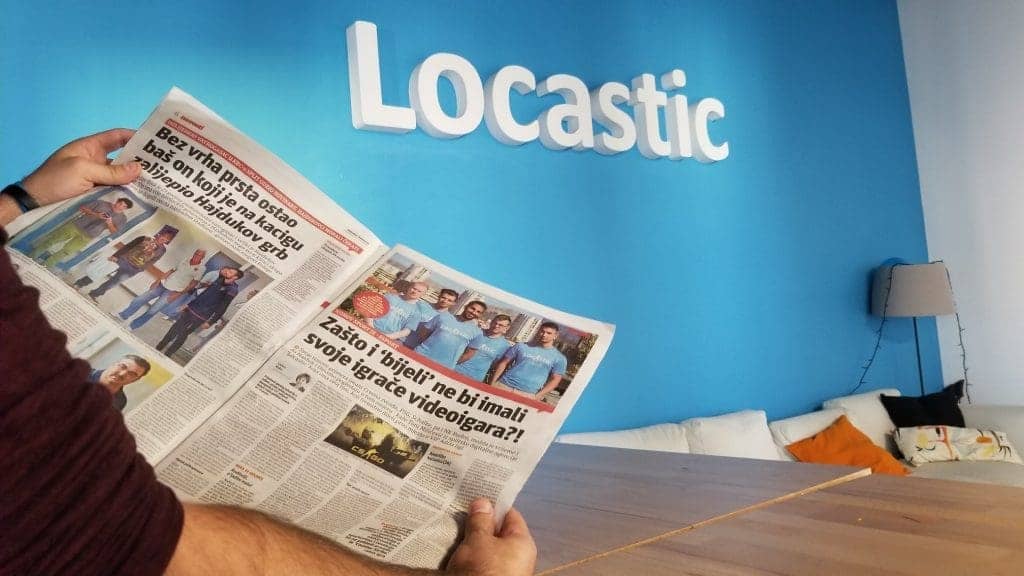 That eventually gave us a leverage point to build a proper portfolio and approach sponsors in order to secure a proper deal that could help us scale even more – sign new teams, open a training centre and eventually travel to international tournaments.
If everything was so perfect, why is the team joining a new organization?
Every bit of information that's listed above is a public image that we worked really hard to maintain, but it would be delusional to claim that everything we didn't experience any issues whatsoever.
Global Esports is already a (relatively) stable industry with an enormous influx of investments and sponsor deals that fund the operational part of an Esports organization, but when it comes to the Adria region – we're still a few steps away.
It was really tough to keep staff members satisfied while they were working on a voluntary basis, players deserved better terms after getting more notable results and ultimately, due to a set budget, we couldn't afford to sign teams in other games like PUBG, League of Legends, FIFA or DotA2. The latter was probably the mandatory step in our growth plan because without that we weren't able to provide "those impressive numbers" with a single team.
Upon entering this adventure, Locastic as the main sponsor approved a budget that supported the project for a bit less than a year. From that point onwards it was our responsibility to present a viable business model that will eventually attract sponsorships or investment deals – but we failed to do so.
During this time span, we spoke to more than 50 prominent regional brands that previously showed at least some interest in the gaming/entertainment industry.
Energy drinks, cinemas, telecom providers, hardware manufacturers, soft drinks, football and basketball clubs, betting companies, tech agencies, banks, etc.

Imagine a regional brand in your head and there's a big chance that we reached out to them.
Even though we actually managed to attract some interest and decent feedback on the business model itself, we weren't able to convert those negotiations into anything else than a classic partnership that would leave us with anything other than goods, services, or merchandise.
The future looks Fantastic!
In some time during the summer, we spoke to people behind Fantastic Esports who wanted to take over the CS: GO team and our staff in order to pursue their goal of becoming the strongest regional Esports organization. Their plans were strongly aligned with the potential that this squad has to offer and we decided to let them go.
Locastic will maintain the support for the team as a partner to Fantastic Esports so make sure you show them some love and keep cheering for the squad in the next season of A1 Adria League!