DUMP Association of Young Programmers, for the seventh consecutive year, brought together the leading domestic technology companies at the same place – to the FESB, University of Split. This conference was an excellent opportunity for young students, future developers, designers, and marketers to familiarize themselves with companies where they could potentially build their careers. It was also a great opportunity for companies to identify and connect with the best students they would like to see in their agencies, offering them internships or even junior positions. 
We are proud to have been one of the four gold sponsors this year, which means we had the privilege of presenting Locastic through various activities at our booth, Fly Talks, a Panel discussion on "Will AI Change the World?", Campfire talks on collaboration between front-end and back-end, and a UX/UI Talk about the design process in agency work.
Visit our booth, and win a Macbook! 
With our extensive experience attending conferences worldwide, we made sure to bring the best of it to our hometown and this local conference. For two days, our booth was a place where we socialized with students, introduced them to Locastic, and showcased the open positions in our agency. To make things even more exciting, we had a spinning wheel, allowing students to try their luck and win a brand-new MacBook Air. Renata, a student who visited our booth, was fortunate enough to win the grand prize and went home with a brand-new laptop. This helped us to meet and connect with as many students as possible.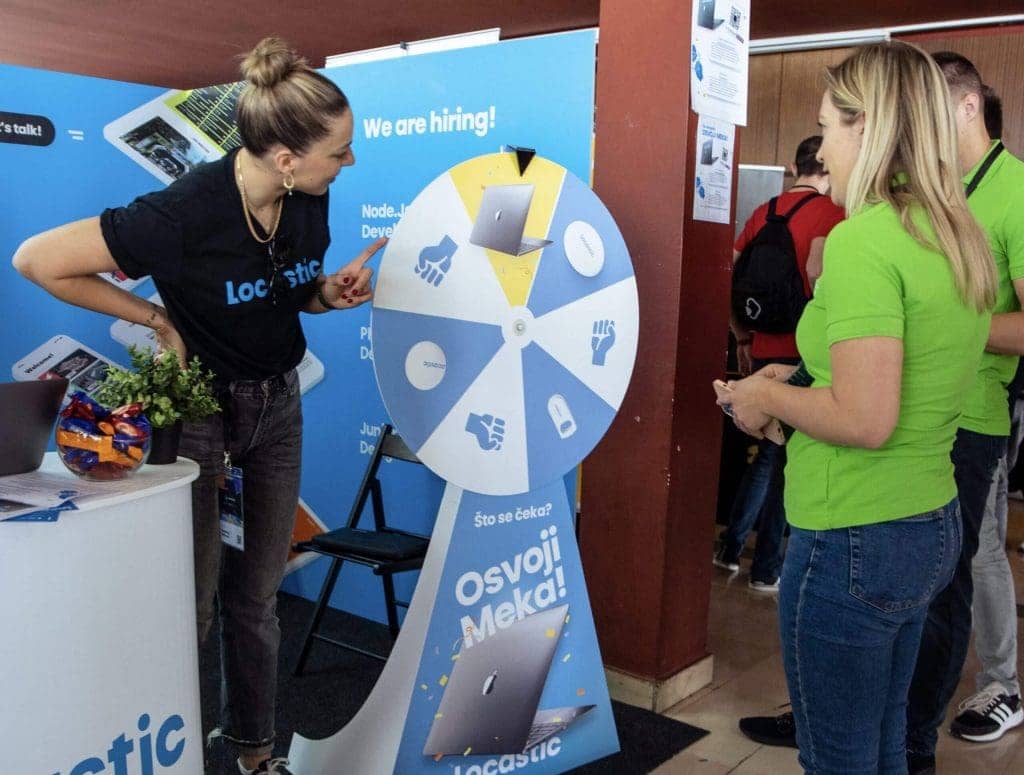 Connecting with ambitious students
Ana, our representative for human resources, and Toni, our marketing manager, led two interesting "Fly Talks" during the conference. They engaged in valuable discussions with students interested in joining the Locastic team. They answered their questions and provided insights into our agency, our culture, and the open positions that ambitious students could apply for. 
Discussing the future of AI on Panel discussions
This conference couldn't go without addressing the inevitable topic of AI. Our Team Lead – Danilo, along with colleagues from other agencies such as Blank, Infobip, and Profico, joined the panel discussion led by Pinija Poljaković to discuss the future of AI. The conversation revolved around their thoughts on how AI will change the world and in what ways. It sparked numerous debates and encouraged all participants, including the audience, to ponder both the negative and positive impacts of artificial intelligence, considering the potential drawbacks and the benefits it could bring to our lives and work.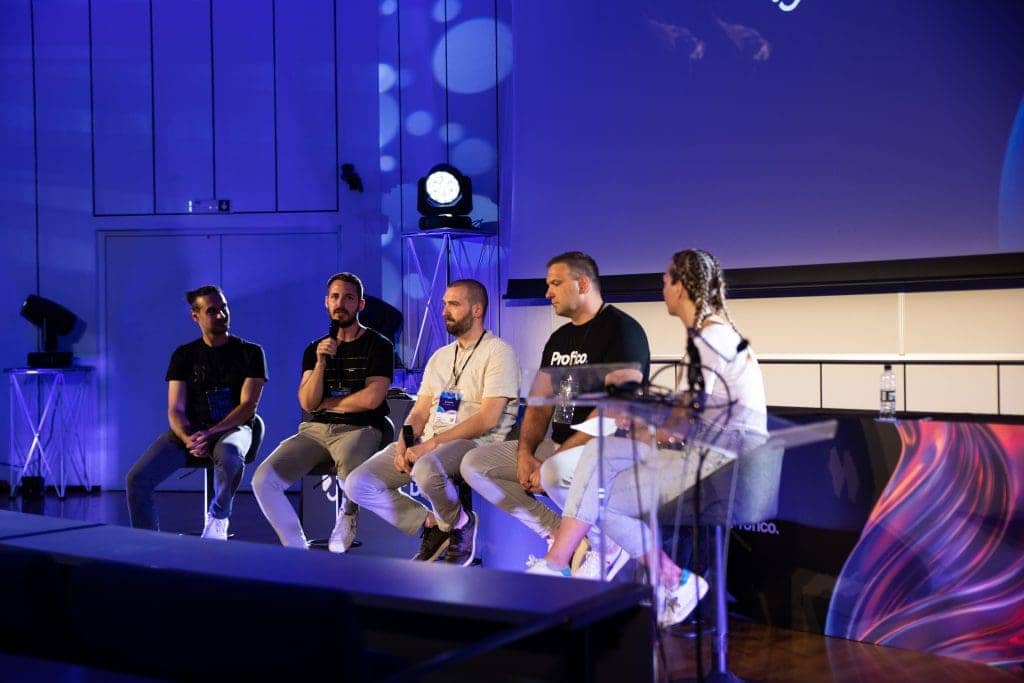 How frontend developers and designers collaborate?
Luka, our frontend developer, participated in the Campfire talks alongside representatives from Space Shard and Profico companies. His talk highlighted the importance of collaboration between front-end developers and designers. He pointed up the power of teamwork and emphasized how seamless collaboration leads to exceptional digital experiences.
Web and app design: from idea to realization
Antonio, our experienced UX/UI designer, delivered a fun, yet educational speech about the design process in agency work. He shared tips, tricks, and useful advice related to designing websites and mobile applications with future students. He explained the entire process from idea to realization, preparing aspiring designers for agency work. He even motivated some of them to apply for the open position of Junior UX/UI designer currently available at Locastic.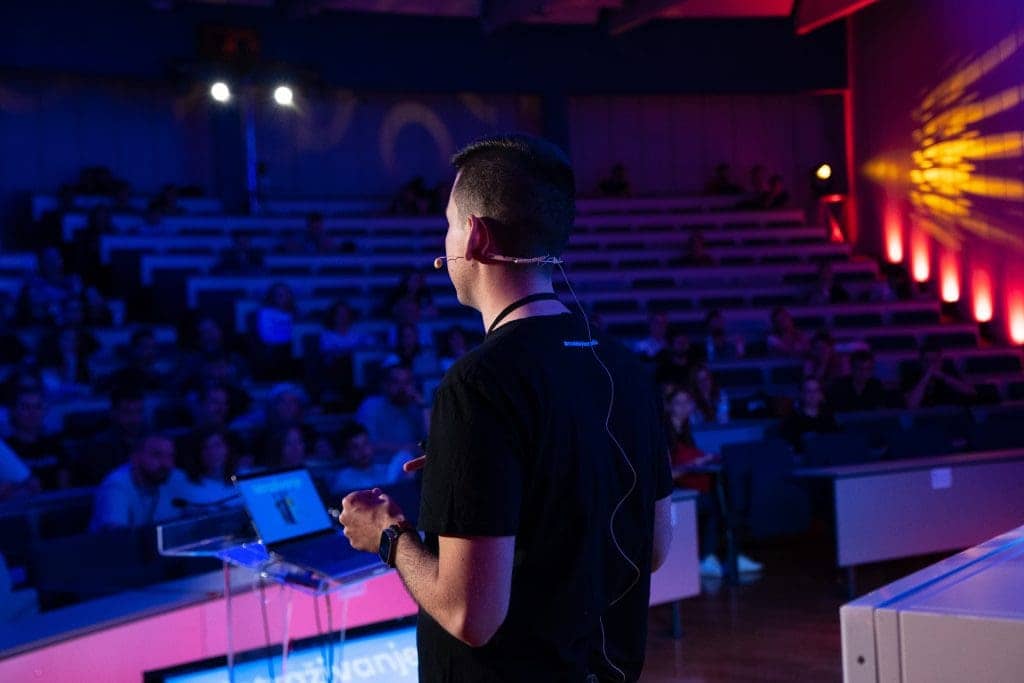 The conclusion
The DUMP Days conference was an exceptional opportunity for young talented programmers, designers, and marketers to gain insight into what awaits them after graduation. It also provided them with valuable advice and tricks to smoothen their career paths. From the perspective of our agency, participating as a gold sponsor was an excellent opportunity to establish a strong connection between us and our potential future employees. We express our gratitude to the organizers for providing us with this opportunity and for supporting the future generation of digital professionals. We look forward to the next Dump Days conference as we continue to contribute to building our local digital community.