So, recently we won a SoMo Borac award, one of the region's most prestigious awards for digital work. Even though we fell short as a runner-up in the Somo App category, we ended up winning the Special Recognition award by Hrvatski Telekom's own jury.
We were impressed with the fact that Tommy, a mainly locally-oriented grocery chain made such a quick adjustment to their business model after the start of the pandemic in 2020 and gave their customers an easy and accessible way to order groceries from the safety of their home.

The HT Jury
I have to start by saying that calling Tommy a locally-oriented grocery chain has to be a bit of an understatement as they have been the 6th biggest chain with more than 200 stores, recently crowned as the market leader in the whole Dalmatian region.
Why am I addressing this?
Simply because we felt the magnitude of Tommy while working on their business processes, and trust me – this was far from a simple ecommerce shop.
Even though we were already in contact for another project for a while, Tommy approached us in late March about conducting the process of digital transformation. The whole project was based around the Spiza mobile app where their customers could order groceries, have them delivered to their doorstep or they could pick them up at the nearest Tommy store.
At the time, it was vital to have the application live as soon as possible, so we decided to take a big risk and accept a 6-week deadline to develop the app. With no spare time to waste, we organized a series of (online) discovery meetings, and in the span of 10 days since the first contact we had all the specifications and wireframes ready for development.
We jumped right in, onboarded the biggest team the company ever had and 6 weeks later – we delivered the MVP version of the Tommy Spiza app.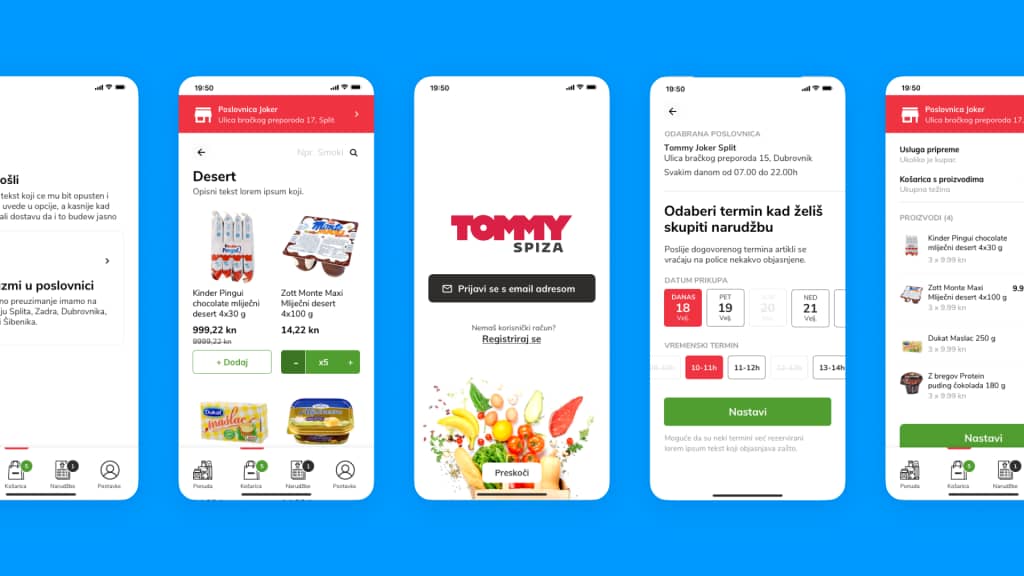 What did you do since then? Why wasn't the app live when it was initially planned?
These past two years in Croatia have been focused on waves a lot, the pandemic ones, not surfing of course. The first wave ended in May and most of the restrictions that were originally placed were removed. So, our client decided to focus their efforts on tourism-based campaigns and give us more time time to polish the app.
It's hard to stress out how much we welcomed that decision. Our team got the chance to spend the whole summer working on some features that were not in the MVP version of the application, such as:
Automatic asynchronous syncing of the item availability and price for all stores with Tommys internal ERP system, enabling us to sync more than 6000 products in under 3 minutes
Solution for weighed products – Weighed products are never the exact weight that you selected (ie. 1,100kg of bananas instead of 1,000kg), so we had to have two-way communication with Tommy's cash registers. We did this using files that are stored on a shared location where we could both edit and store the file until the order is completed and also adding a unique weight margin for all products so that we can reserve the correct amount on the customer's Credit Card and not have issues later if the product weight exceeds the exact amount he added to his cart/order
Customizable shop layout – Every shop has a unique layout, so in order to help out the staff that prepares each order, we developed a feature that enables every shop to upload the arrangement of products in their shop so that incoming orders are sorted in a way that minimizes time spent preparing the order
After the whole application had been upgraded and ready for production, we finally released Tommy Spiza in November of 2020 and received great reactions from the customers, commending us for the app and asking for more locations to be added and features to be developed.
Next up, the desktop version!
After a short break during the winter, we started a new round of discovery workshops. This time we had an even bigger task, developing a webshop with a bunch of new features and a new corporate website all in one.
This time around, we weren't forced to rush the project as Tommy's customers already had a solution for shopping through the app, so we were able to put in much more thought into each feature and focus on the user experience to maximize conversion.
Four months later, tommy.hr went live, bringing in even more customers, even tourists, who found shopping for groceries online on the beach much more convenient than spending time in long shopping queues. 
What makes the project special?
First of all, it was a situation we never encountered before. We were living in the middle of a pandemic with everyone working from their home, spending most of our time on video calls, trying to have everyone on the same page, and putting out the equal amount of effective work as we had during our office days made things uncertain.
In the end, things turned out great, we earned the trust of the client and we also had a lot more trust in the processes we had been implementing for the past years, which had a somewhat of a stress test in those couple of months. All of this served as somewhat of a proof of concept, mainly to ourselves, as this was the first big project which we developed from the discovery phase to release with a fully remote team, proving that we can tackle even the hardest of tasks.
What does the future hold?
We have already developed a couple of big features since releasing the webshop and we're currently working on developing a loyalty integration. Only time will tell what else our collaboration will bring, but one thing is for certain – the collaboration of Tommy and Locastic is a long-term one and there are more big things in store for the near future.